Modern luxury Aluminum Chain Tassel Chandelier - 60CM
Delivery

Standard shipping: (7-15 Days)

return

15 days return policy
Your purchase makes a difference.
Aluminum Chain Tassel Chandelier Classic Empire Style Chandeliers drawing from the wealth of knowledge and experience of craftsmen,   truly elevates light to an art form. Using a unique combination of precious materials, artisan craftsmanship, respect for tradition and cutting edge technology,  includes unique, luxurious heritage pieces that define a new period of Italian craftsmanship. Volver linear chandelier design combines thin nickel chains with the latest in LED technology to create a light that is both elegant and modern. 
Type:Tassel Chandelier
Dimension :
    Small: Diameter 23.6"*H 31.4"
    Medium: Diameter 27.5"*H 35.4"
    Large: Diameter 31.4"*H 39.3"            
    Extra large:Diameter 35.4"* H 43.3 "   
40"L hanging chain will be provided, please contact us if you need more hanging chain.
Voltage: 110V-240V available
Lamping:bulbs included.Small: 8xE12x5W/Medium: 9xE12x5W/Large: 12xE12x5W/  Extra large:15xE12x5W Dimmable
Material: Iron Frame & Aluminum Chain
Finish: polished stainless steel finish and silver chain
Color Temperature: Warm white 3000K/ Daylight 4000K (Default warm white,please leave a message if you want different color.)
Warranty: 2 years

Customized Design is Acceptable. The quantity of lights, finish and shape of the canopy can all be changed. Chat with us first if necessary before you place an order.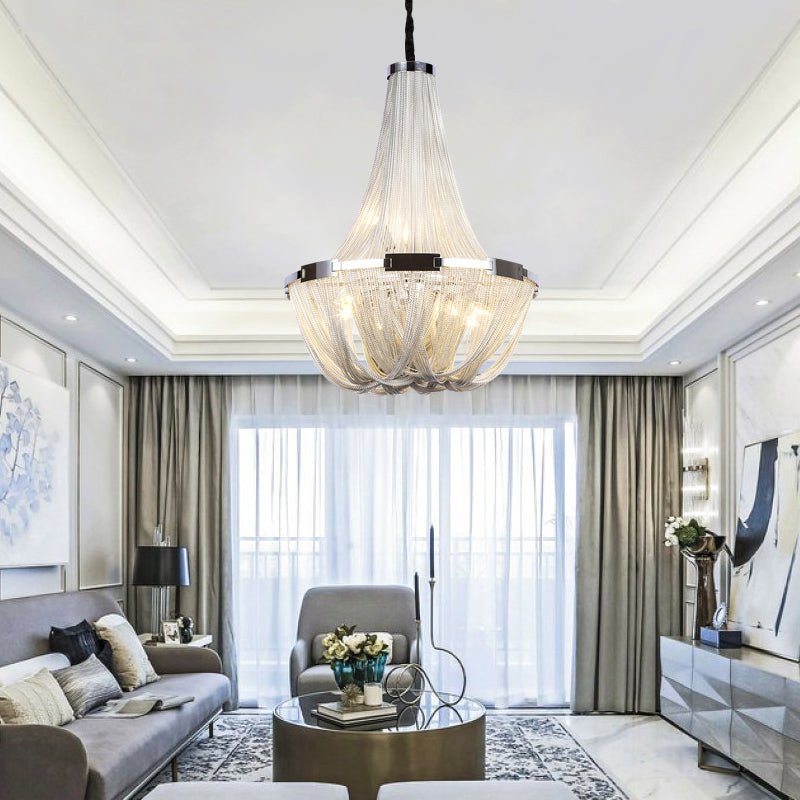 Shipping:
It may take 1-3 business day to process your order. Once your order has been processed, you will receive an email confirming that your order has been shipped.
Shipping :Free shipping on all orders
Shipping :Free shipping on all orders
Shipping time :USA, Canada, UK, Germany, France, Italy, Spain. Shipping time is 5-8 business days.
For customers in other regions, we suggest contacting us before placing an order to obtain an estimated delivery time.
For items weighing over 77 pounds, we recommend contacting us for estimated delivery times prior to placing an order.
Tariffs: All orders are taxed by OSLANI.
To track your order, please visit your OSLANI account or the shipping confirmation email.
TRACK YOUR ORDER:
When your order is dispatched we'll send you an email with your tracking details so you can follow its journey. https://oslani.com/apps/17TRACK or visit the TRACK YOUR ORDER page
Return value:
100% Money Back Guarantee, our return policy is 15 days. Purchases made online can be returned online or in stores for free.
Or to register a return online,Contact the client service. Register your returns online by connecting to your OSLANI

Items purchased with PayPal can be returned online or exchanged at a self-supporting store
Prepare the package: Put the item in the original package and place it with the original receipt.
Delivery of packages to UPS: Unload your packages at the UPS store or collection point.
If you have any concerns over the shipping time, please feel free to contact our customer service team:support@oslani.com
Cancellation Policy
Non-customized products can be canceled prior to shipping. If your order is unpaid, you can easily cancel it yourself. If your order has been paid for, you can cancel it by contacting our customer service (support@oslani.com). Once your order has shipped, it can no longer be canceled. Once production has begun, we cannot guarantee any requests to cancel or modify an order. Order cancellations will not be accepted for any customized or special products (items not in stock sizes) once production has begun.
If you have any questions about our refund policy, please feel free to contact our customer service team at support@oslani.com
Cancellation before payment
Log in to My Account and click on My Orders.
Click on the order number you wish to cancel.
Click "Delete this order" and confirm that you want to cancel it.
Cancellation after payment
Please note that we may offer appropriate cancellation policies or solutions for customer inquiries depending on the product category.
Orders canceled before shipment will be eligible for a full refund.
Designed, customized orders cannot be cancelled.
Once your order is shipped, it cannot be canceled.
Rejected signed packages
Rejected orders will be charged the original shipping cost as well as the return shipping cost for the package to be returned to our facility. All rejected orders will be charged a 50% restocking fee.
If you refuse to deliver a package due to import duties or taxes, you will be responsible for all costs involved in returning the item to us.